36W & 45W Retrofit Kit for 4′ 2-T8 ​Strip Fixtures
Have rows of old outdated energy inefficient fluorescent T8 strip fixtures in your school, office or commercial space? Want to save money and update to new energy efficient LED lighting without going thru a major renovation or financial strain? Your solution, is retrofitting your existing fluorescent stip lights, using our LED Strip Lamp Retrofit Kit and our LED Green Light TURNKEY-ZERO-OUT-OF-POCKET financial program. We manage every aspect of the conversion process for you. You get both positive cash-flow and new modern updated LED lighting for your facilities without any capital outlays or added liabilities to your balance sheet! You think it's too good to be true? Call us and put us to the test! But here's how we retrofit your banks of old outdated ceiling mounted T8 fluorescent strip light fixtures.
INSTALLATION PROCEDURE
1) Remove T8 fluorescent tubes and remove Tombstones from old Strip Lamp. Strip Lamps base will be bare.
2) Open strip lamp's electrical access panel cut power wires to the ballast and attach supplied "Quik-Connect Plug" to power wires using wire nuts.
3) Connect strip fixtures power "Quik-Connect Plug" to new LED Retrofit "Quik-Connect-Orange plug" located on the backside of the new Retrofit fixture (refer to figure on right).
4) Rotate the new Retrofit fixture and fit the base of the new Retrofit fixture over the base of the old strip lamp base, securing a new Retrofit fixture to strip lamp base via 4 self-tapping screws.​
5) New Retrofit fixture will appear as presented in figure on the right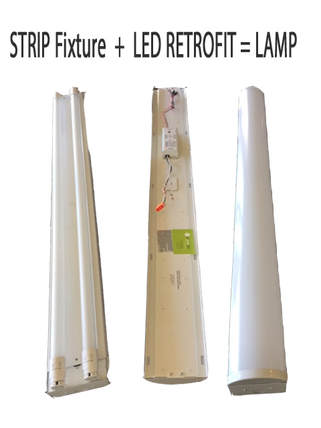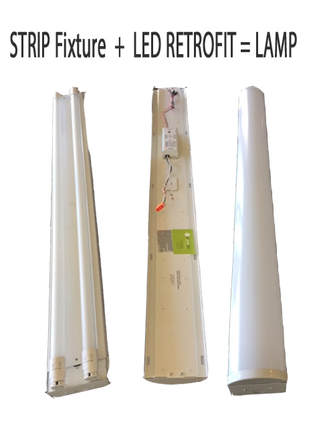 36W Retrofit Kit for 4′ 2-T8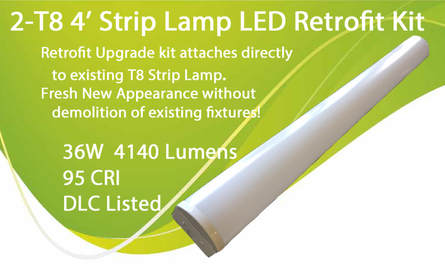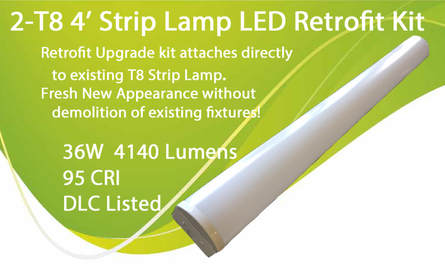 Specifications
Average wattage : 36 Watts
Luminous efficacy : 115 lm/W
Input voltage :120-277 VAC
Color temps offered (ANSI) : 3500K, 4100K or 5000K
CRI (color rendering index) : 95 CRI
Measured output : 4041 lumens
Illumination Angle : 180 degrees
Dimensions (MOL) : 4 feet
Life span : >100,000 hours
Operating temperature : -4°F-122°F (-20°C-50°C)
Ratings : dry location
Warranty :7 years non-prorated
Certification : DLC, ETL
Driver : External Driver
Power factor: >95% (277 VAC)
45W Retrofit Kit for 4′ 2-T8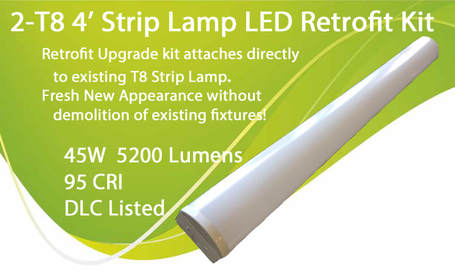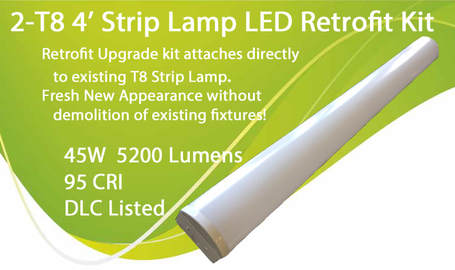 Specifications
Average wattage: 45 Watts
Luminous efficacy : 115 lm/W
Input voltage :120-277 VAC
Color temps offered (ANSI) : 3500K, 4100K or 5000K
CRI (color rendering index) : 95 CRI
Measured output : 5200 lumens
Illumination Angle : 180 degrees
Dimensions (MOL) : 4 feet
Life span : >100,000 hours
Operating temperature : -4°F-122°F (-20°C-50°C)
Ratings : dry location
Warranty :7 years non-prorated
Certification : DLC, ETL
Driver : External Driver
Power factor: >95% (277 VAC)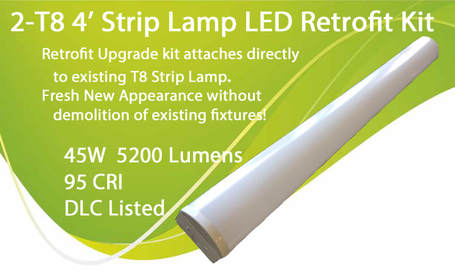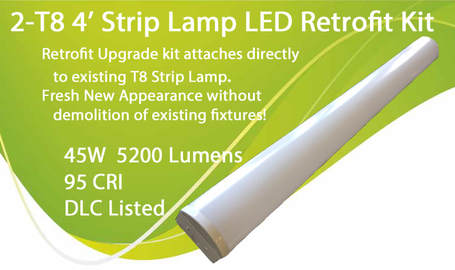 46W 4′ Strip Fixtures-with or without Emergency Backup Power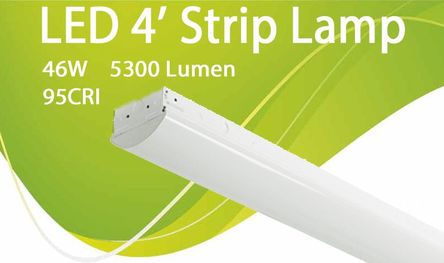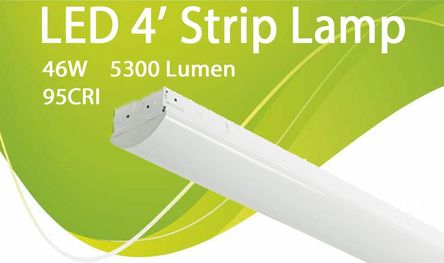 Specifications
Average wattage : 46 Watts
Luminous efficacy : 115 lm/W
Input voltage :120-277 VAC
Color temps offered (ANSI) : 4000K
CRI (color rendering index) : 95 CRI
Measured output : 5300 lumens
Illumination Angle : 180 degrees
Dimensions (MOL) : 4 feet (48″x4.4″x3.3″)
Life span : >100,000 hours
Operating temperature : -4°F-122°F (-20°C-50°C)
Ratings : dry location
Warranty :7 years non-prorated
Certification : DLC, ETL
Driver : External Driver
Power factor: >95% (277 VAC)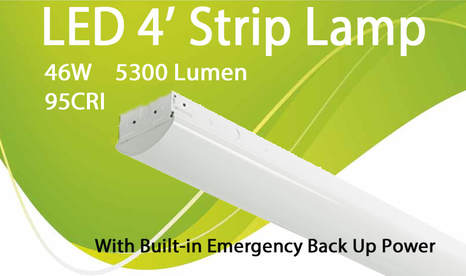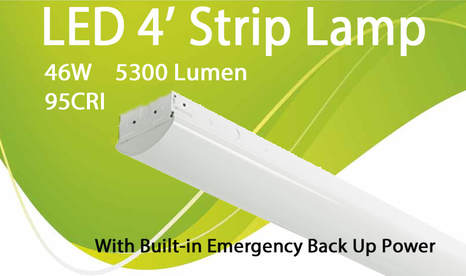 Specifications
Average wattage : 46 Watts
Luminous efficacy : 115 lm/W
Input voltage :120-277 VAC
Color temps offered (ANSI) : 4000K
CRI (color rendering index) : 95 CRI
Measured output : 5300 lumens
Illumination Angle : 180 degrees
Dimensions (MOL) : 4 feet (48″x4.4″x3.3″)
Life span : >100,000 hours
Operating temperature : -4°F-122°F (-20°C-50°C)
Ratings : dry location
Warranty :7 years non-prorated
Certification : DLC, ETL
Driver : External Driver
Power factor: >95% (277 VAC)
Includes: Integrated Emergency Lighting Power Back Up Module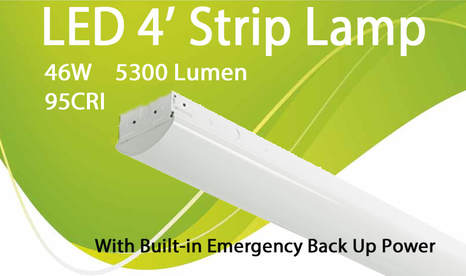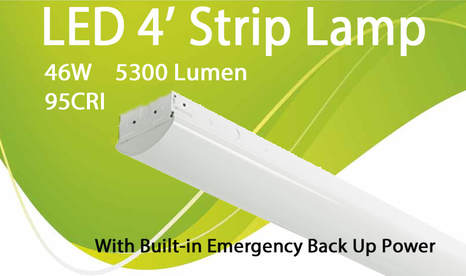 36W & 45W Pendant Mount Architectural ​Strip Fixture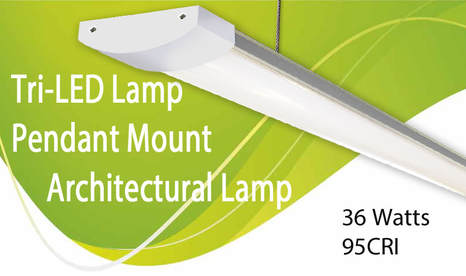 Specifications
Average wattage : 36 Watts
Luminous efficacy (tube) : 115 lm/W
Input voltage : 100-277 VAC
Color temps offered (ANSI) : 3500K, 4100K or 5000K
CRI (color rendering index) :>95
Measured output : >4140 lumens
Beam angle : 270 degrees
Dimensions : 1219mm X 101mm
Life span : > 100,00 hours at 25°C or 77°F
Operating temperature : -22°F-113°F
Ratings : Indoor location
Warranty : 7 years non-prorated
Certifications : UL, DLC CE
Driver : UL External Driver
Power factor : >95% (277 VAC) :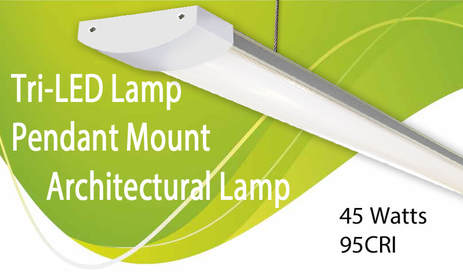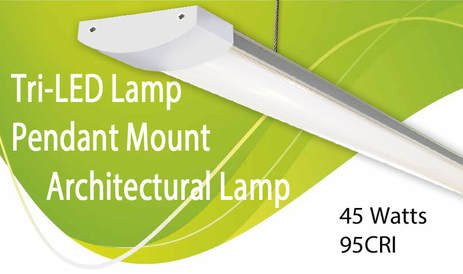 Specifications
Average wattage : 45 Watts
Luminous efficacy (tube) : 115 lm/W
Input voltage : 100-277 VAC
Color temps offered (ANSI) : 3500K, 4100K or 5000K
CRI (color rendering index) :>95
Measured output : >5200 lumens
Beam angle : 270 degrees
Dimensions : 1219mm X 101mm
Life span : > 100,00 hours at 25°C or 77°F
Operating temperature : -22°F-113°F
Ratings : Indoor location
Warranty : 7 years non-prorated
Certifications : UL, DLC CE
Driver : UL External Driver
Power factor : >95% (277 VAC) :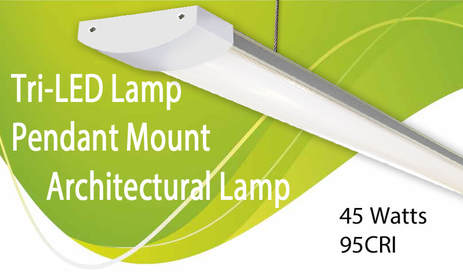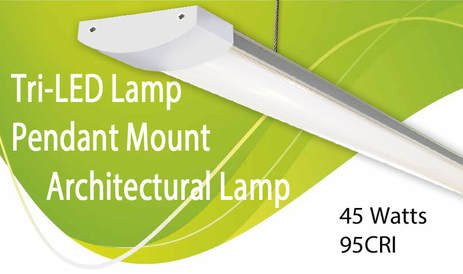 Address
2629 East Jensen Ave
Fresno, CA 93706
Email
info@ledgreenlightint.com